It's and we would like to welcome you to the Salt Lake Tourist & Visitor Centers official online edition. This page provides detailed information on Attractions and Things To Do when Visiting Salt Lake City.






What is there to do in Salt Lake City? Here are a few suggestions...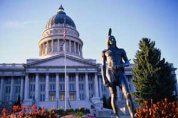 Utah State Capitol Building
The Utah State Capitol Building in Salt Lake in Salt Lake City is one of the most popular tourist attractions for many reasons. Completed in 1915, the State Capitol is a lovely Renaissance-style building featuring depression-era murals in the rotunda, which depict events from Utah's past. The beauty and its architecture is available to see as well as incredible views of the Wasatch and Oquirrh mountains, the Great Salt Lake and the valley floor. "Salt Lake City, An Amazing View"!





Historic Salt Lake Temple Renovation
Complete Details From The Mormon Newsroom.org The Temple and Temple Square Officially Closed at the end of 2019 for Four ( 4 ) Years - A Complete Renovation
Church President Russell M. Nelson announced the pioneer-era temple will remain closed for approximately four years while undergoing a major structural and seismic renovation. The temple is expected to reopen in 2024 with a public open house.

The majority of the grounds will remain open for visitors throughout the renovations



Temple Square Garden Tours
Free one hour garden tours are given May through September. World renowned gardens surround the 35 acres of the headquarters of The Church of Jesus Christ of Latter-day Saints. These gardens include 250 flower beds, more than 165,000 bedding plants, and over 700 varieties of plants from all over the world. The gardens are redesigned every six months and replanted by hundreds of volunteers.
Location: Temple Square or Church Office Building Plaza
Duration: 45-60 minutes

Hours: Tours scheduled by appointment. Call (801) 240-5916 for scheduling. Visit Official Website




Mormon History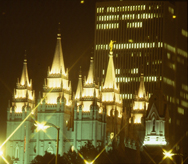 While visiting Salt Lake City, Temple Square is the heart of downtown. Also on the Square is the Tabernacle, home of the world-famous Mormon Tabernacle Choir where you can enjoy a free performance. Other spots of interest include the family history library, LDS Church Office Building, Museum of Church History and Art, LDS Conference Center, Joseph Smith Memorial Building and the Lion House.




2021 Utah Arts Festival Will Return in 2022
When: August 2022
Location: Library Square, 200 East 400 South, Salt Lake City, visit their official website



Explore the Outdoors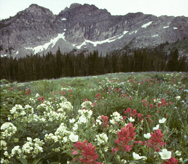 Just minutes from Salt Lake you can enjoy biking, hiking, horseback riding, alpine slides, and much more. Each resort has something different to offer for everyone. Salt Lake is also the ideal hub for excursions throughout the West. Fifteen national parks and monuments are within a one-day drive from Salt Lake, twelve within Utah's borders. The toughest decision is deciding which one to visit!



Shopping




Did you know the first department store in the United States opened for business right here in Salt Lake City in 1868? Since then shopping centers have flourished, particularly with the opening of the open-air, contemporary Gateway mall, which features outdoor dining and entertainment. Several specialty boutiques and antique shops are all easily accessible.



Family Fun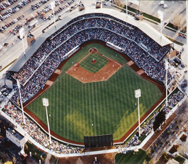 So much to do, so little time! Your family will run out of steam before you run out of options. Hogle Zoo, Clark Plantaterium, Lagoon Amusement Park, and The Living Planet Aquarium are just a few ways to get started. Or inquire about family discount packages to see the Salt Lake Bee's, our triple AAA minor league baseball team at Smith's Ballpark.



Hogle Zoo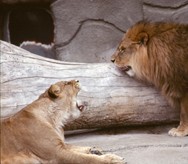 Hogle Zoo is another fun family activity in Salt Lake City. They have many different animals, shows and exhibits. It is an affordable option, as zoo admission prices are usually low to accommodate families. The Zoo offers train rides, food and an excellent gift shop. Open daily. Utah's Hogle Zoo



Another attraction featuring animals is the Tracy Aviary. They have over 400 different birds, many of which are rare or endangered species. Their live bird shows are interactive and so informative, yet never boring, even for small children. Again, admission fees are priced affordably for families.

If you are interested in history and museums, Salt Lake offers some wonderful choices. One of these is Wheeler Historic Farm. It is open from dawn to dusk every day, so if you have early risers, this is the activity fir them! This historic farm is dedicated to the history of Utah farming and agriculture. Attractions include wagon rides, hands-on farm activities, tours, demonstrations, exhibits, etc. There are activities for every season.

The Children's Museum of Utah offers the most hands-on and kid-friendly things to do in one place. This is perfect for an afternoon of inclement weather. For a few dollars per person, kids can discover activities about animals, colors, size, transportation, food etc. In this museum, everything is made to be touched by little hands!

Another excellent museum for Utah culture and history is the Museum Of Church History and Art. You can step inside a real pioneer wagon along with examining many artifacts, galleries and kid-friendly displays. The Mormon religion has a rich history for which Utah is well known. This is an excellent way to find out more about the past and present of this state.



The Clark Planetarium offers the best light/music and star shows around. There are shows for every taste, both adult and child. It offers shows about the forces of nature, different planets and also includes movies in the IMAX format. The shows are generally between 50 and 60 minutes long, and they suggest that you get there at last 20 minutes beforehand. There are many fun and interesting exhibits to enjoy while you wait.
Clark Planetarium



Scenic Drives
Taking a scenic drive around the beautiful Wasatch Mountains is another way to spend your time in Salt Lake City. There are several options to choose from, depending on how much time you have.

Big Cottonwood Canyon
This ride is 14-mile long (one way) and offers mountain scenery similar to its neighboring canyon, Little Cottonwood. As in Little Cottonwood, there are picnic areas and campgrounds and access to numerous hiking trails. The ski resorts of Solitude and Brighton are at the top of the canyon. In summer and fall only, a maintained dirt road (Guardsman Pass Road) can be taken over the top of the mountains to Park City. Estimated time is 45 minutes.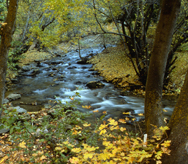 Antelope Island State Park
Located approximately 45 minutes from downtown, Antelope Island is truly one of Utah's hidden treasures. It is accessible by boat or by driving a seven-mile paved causeway. The island is 28,022 acres with an elevation range from 4200 ft. to 6596 ft. There you will find an abundance of wildlife such as bison, deer, elk, along with several birds and wildflowers. On the island there is nearly 40 miles of hiking, biking, horseback trails, picnic areas and camping. At night the city views are beautiful.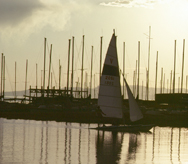 Pioneer Memorial Scenic Backway
This historic route follows the original path of the Donner-Reed Expedition of 1846. It ascends through Emigration Canyon east of Salt Lake City and then descends to Highway 65. It ends at the 680-acre East Canyon Reservoir, which is popular for boating, fishing, water skiing, and swimming. It is closed in the winter months. Estimated time is 1 hour.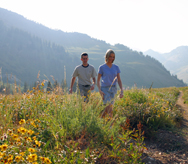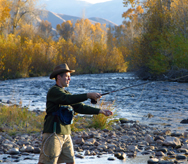 Olympic Sites
Salt Lake City was the proud host of the 2002 Winter Olympics and the spirit still lives on. Visit the Olympic Cauldron Park, which was the site of Opening and Closing Ceremonies. The park features the cauldron itself, the striking Hoberman Arch, a visitor center, and a theater. Panels tell the story of the 17 days of the games. While in the Salt Lake, you can view "The Fastest Ice On Earth" at our Utah Olympic Oval in the Salt Lake Valley.

If you are going to visit Utah during the winter months, the single best thing to do is go skiing! There are 6 resorts within 30-45 minutes of Salt Lake City. They offer skiing for all skill levels, including both group and private lessons for children and adults if you are a beginner. Utah is known for its great snow! During the 2002 Winter Olympics, most of the resorts in Utah hosted winter games. Their facilities are top of the line and very user-friendly!

Salt Lake City is definitely a four-season destination. Summers can be very hot and winters can be extremely cold, so dress accordingly!



Utah Museum of Fine Arts






The Utah Museum of Fine Arts (UMFA) at the University of Utah is your destination for global visual arts. From ancient objects to the latest contemporary works, the UMFA galleries newly reimagined and remodeled-showcase the breadth and depth of human history and creativity. The Museum's collection of nearly 20,000 original works of art is the most dynamic in the region. As the fine arts museum for both the state and the University, the UMFA is a vibrant hub for cultural exchange among campus and community audiences.
Address: 410 Campus Center Drive, University of Utah Campus
Phone: 801-581-7332
Hours: Open 6 Days a Week - Closed Mondays
Utah Museum of Fine Arts Official Website




Off Broadway Theatre
The Off Broadway Theatre (OBT) is Salt Lake's downtown hot spot for comedy. From great Broadway-style shows to wild and wacky spoofs and parodies, to amazing improv comedy, there's one thing you can count one with OBT, something funny is always going on! OBT is also the home of Utah's most popular improv comedy show, the OBT Improv Troupe: Quick Wits. Imagine two teams of actors competing to see which one can make you laugh the hardest. Now throw in everything including the kitchen sink and you have the OBT Improv Troupe. Located in downtown Salt Lake City at 272 South Main Street.



Trolley Square
This National Historic Site is housed in charming, olden-day trolley car barns. A major shopping, dining and entertainment marketplace. Located east-side downtown area.



Heber Valley Historic Railroad
A journey on a historic train across Heber Valley, around Deer Creek Lake, and through Provo Canyon. Charters and group rates available.



The City Creek Center is a mixed-use development with a massive shopping experience, office, residential buildings and simulated creek across from Temple Square in downtown Salt Lake. The fountain combines fire, water and music to create a spectacular visual display. It was designed by the same company that built the fountains at the Bellagio in Las Vegas. - City Creek Center's official site.



Ballet West
Repertoire includes the great full-length classical and contemporary ballets, as well as original works. Considered one of America's leading ballet companies.


Utah Opera Company
Utah Opera produces four professionally staged, fully costumed operas with nationally and internationally known artists.


The Utah Symphony
Founded in 1940, the Utah Symphony has become a vital presence on the American music scene through its distinctive performances worldwide and its well-known recording legacy. The Symphony performs in the Abravanel Hall.


Mt. Timpanogos Cave, National Monument


Utah Grizzlies AAA Ice Hockey
The Utah Grizzlies professional hockey team is a member of the International Hockey League. IHL Champions 1995, 1996. Regular season runs October-April.


Wheeler Historic Farm
A Utah Family Farm Museum. Tour a Historic Farmhouse and visit with animals, take a tractor drawn wagon ride, enjoy special events year round, picnic areas and more.


Capitol Theatre
Built in 1913, the Capitol Theatre is home to the Utah Opera Company, Ballet West, and Ririe-Woodbury Dance Company. Other touring live performances and Broadway plays are also performed at the Capitol Theatre.


Repertory Dance Theatre
Repertory Dance Theatre is dedicated to the creation, performance, perpetuation, and appreciation of American modern dance.


Salt Lake Art Center
Since its inception in 1931, the Salt Lake Art Center has been an independent voice for contemporary visual art in the State and region. The center presents approximately twelve visual arts exhibitions annually, a full complement of educational programs for a general adult audience, and focused arts education programs for elementary and high school age youth, all FREE of charge.


Utah Olympic Oval
2002 Olympic Winter Games speed skating site. Located in West Valley City, it is still the athletic training center. Public skating sessions, soccer, hockey leagues. Speed skating, curling, and figure skating instruction. Special events.


Red Butte Gardens
On the east side off of Foothill Blvd. and east of the U. of U., Red Butte is nestled away in the foothills, the Garden has a breathtaking panoramic view of the Salt Lake Valley, and boasts 150-acres of natural area, spectacular floral displays, fountains, waterfalls and walking paths.


This Is The Place State Park
On the east side off of Foothill Blvd. and east of the U. of U., take a walk into the past at This Is The Place State Park. Old Deseret is a living historic village that recreates a typical community between 1847 and 1869. See the sights of daily pioneer life and visit adobe houses, shops, schools, churches and sites of cultural activities.


Tracy Aviary @ Liberty Park - 589 East 1300 South
Located at the SouthWest end of Liberty Park, Tracy Aviary is America's oldest and largest bird park. The Aviary currently maintains a population of about 500 birds representing 150 species, 21 of which are listed as endangered or threatened.


The Children's Museum of Utah
Located at 840 North 300 West, The Children's Museum of Utah is an interactive learning zone where children and adults can explore, imagine, create, and discover together. The Museum features over 75 permanent exhibits in the arts, sciences, and humanities.



Fort Douglas Military Museum
Located within the grounds of the University of Utah, the museum campus consists of three buildings which house the library, exhibits, administration offices, artifact storage and workshop areas. The three buildings are on the National Register of Historic Places, and date from 1863 and 1875. The museum features indoor and outdoor exhibits, a gift shop, a cannon and tank park, educational programs and self-guided tours of the fort.



Cathedral of the Madeleine
Salt Lake's Largest Catholic Church. Restored to its original splendor, it is referred to as a Cultural Masterpiece.


The Living Planet Aquarium
The Living Planet Aquarium has become one of Utah's most unique and popular attractions. Exhibits feature sharks, rays, seahorses, sea jellies, octopus, piranha, a rescued green sea turtle, Gentoo penguins and more!


Memory Grove Park
Located just north of the downtown area, this park features memorials to Utah's veterans and a replica of the Liberty Bell. Walking, jogging, bicycling, etc.


Pioneer Memorial Museum
6 Floors of Displays, The Pioneer Memorial Museum is noted as the world's largest collection of artifacts on one particular subject, and features displays and collections of memorabilia from the time the earliest settlers entered the Valley of the Great Salt Lake until the joining of the railroads at a location known as Promontory Point.


Utah Museum of Natural History
Located at 1390 East 220 South, near the University of Utah, You will enjoy your journey through the evolving world of natural and cultural sciences at the Utah Museum of Natural History. Visitors can enjoy Native American artifacts, Dinosaur displays and hands-on activities for the kids.



NBA's Utah Jazz The Official Website of the Utah Jazz.



Salt Lake Bees
The Salt Lake Bees AAA baseball team plays at Smith's Ballpark in Salt Lake City.






___ Table Of Contents ___






___ Things To Do And See ___


Activities For Kids When Visiting

Attractions & Historic Sites

Visit Temple Square

Shopping

Sightseeing Tours

Family History & Genealogy Records - Research Library

Salt Lake City Event Calendar: Music, Arts, What's Happening

Plays, Musicals, Theatre, Dance, Concerts, Music and The Arts

Utah Outdoors & Recreation, Camping, Fishing, Hiking, Boating, etc.

Horseback Riding In Utah

First Time To Salt Lake ?
Our 5 Minute Guide to Salt Lake City

Park City Utah Vacations

The Town of Park City

Salt Lake City Golf Courses

Utah Olympic Oval in Salt Lake



___ Transportation ___


Salt Lake International Airport - Official

Flights to Salt Lake City

Salt Lake Taxi Cabs, UBER

Salt Lake Airport Shuttles

Trax Light Rail

Car Rentals

SUV Rentals

RV Rentals

Parking Downtown Salt Lake



___ Salt Lake City Lodging ___


Downtown Salt Lake City Hotels

Salt Lake Airport Hotels

Salt Lake Mid-Valley Hotels

West Valley Area of Salt Lake - Maverik Center Hotels

Salt Lake East Valley Hotels

Sandy / Draper Hotels

Child Friendly, Hotels with Indoor Pools

Extended Stay Hotels Throughout Salt Lake

Pet Friendly Hotels
In Salt Lake City

Meeting Space in Salt Lake City

Bed And Breakfasts in SLC



___ Year Round Visitor Info ___


Salt Lake Visitor Guides, Travel Planners And Discount Packages

Request Free Lodging Brochures

Salt Lake City Liquor Laws

About Salt Lake City

Salt Lake Demographics

Salt Lake Photos

History of Salt Lake City

Salt Lake City Restaurants

Salt Lake City Bars, Nightlife

Live Music in Salt Lake City

Karaoke in Salt Lake City

Everything Throughout Salt Lake City - 102 Community Links:
Arts - Theatre - Dance - Museums - Fun - Attractions - Festivals - Gardens - Music

Religious Services / Churches in Salt Lake City

Massage Therapists and Day Spas
In Salt Lake City

Salt Lake City Wi Fi Internet Hot Spots

Cycling, Tour of Utah

The Peppermill Concert Hall in Wendover Nevada

Wendover Casinos - 90 Minutes From Salt Lake

Salt Lake City Apartment Rental Rates

Salt Lake City Home & Condo Prices

Salt Lake City Homes For Sale

Buses From Salt Lake City To Zions National Park

Transportation From Salt Lake City To Southern Utah

Free Moving Packages for Utah

Last Minute Deals: Discounted Hotel Packages

Salt Lake City Travel Planners & Coupons, Free!!!

Salt Lake City's Best Restaurants



___ Winter Vacation Lodging ___


Utah Vacation Lodging

Park City Lodging

Park City Hotels



___ Skiing Utah ___


Salt Lake City Ski Lodging

Learn To Ski & Board

Utah Ski Resorts

Discount Ski Lift Tickets

Where To Rent Skis & Snowboards

SLC Ski Shops - New Skis, Boards & Apparel

Ski Salt Lake



___ Park City Visitor Info ___


The Town of Park City

Park City Lodging

Park City Hotels

Park City Restaurants

Park City Home & Condo Prices

Park City Homes For Sale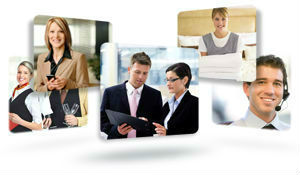 Welcome, we are proud to bring you our official online directory! We hope the information we compiled will be useful to you, and we sincerely hope that you find everything you are looking for. When you do Visit Salt Lake, bring us along on your mobile device. Our goal is to make your visit more enjoyable by providing updated information.












Contact Us By Email



Salt Lake Tourist & Visitor Center
Copyright 2000 - 2021, All Rights Reserved.
Home